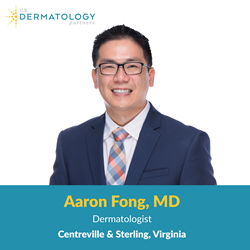 U.S. Dermatology Partners Chief Executive Officer Paul Singh said, " We are happy to welcome Dr. Fong as he joins the exceptional team at our Sterling office. The addition of another experienced full-time dermatologist will allow us to serve more patients and increase access to care."
STERLING, Va. (PRWEB) October 04, 2021
U.S Dermatology Partners is pleased to welcome Dermatologist Dr. Aaron Fong to their Sterling, Virginia location.
Dr. Aaron Fong earned his medical degree from Baylor College of Medicine in Houston. His transitional year internship took place in Honolulu at the University of Hawaii. Dr. Fong served as Chief Resident in his final year of residency in Washington, D.C. at George Washington University.
Dr. Fong chose dermatology because it offers a wide variety of conditions to be seen and treated in clinic. He believes that everyone has concerns about their skin, so he strives to do his best to address the needs of his patients. Dr. Fong enjoys treating a variety of conditions such as acne, eczema, psoriasis, skin cancer, hidradenitis suppurativa, and warts.
Dr. Fong is a member of the American Academy of Dermatology and has published articles in peer-reviewed journals. He continues to stay current with new guidelines in dermatology to provide the most up-to-date evidence-based medicine.
Dr. Fong joins Neeraja Mattay, MD, Anjali Chandela, MD, Imran Aslam, MD, and Michelle Burton, PA-C.
U.S. Dermatology Partners Chief Executive Officer Paul Singh said, "We are happy to welcome Dr. Fong as he joins the exceptional team at our Sterling office. The addition of another experienced full-time dermatologist will allow us to serve more patients and increase access to care."
Outside of work, Dr. Fong enjoys spending time with his dog, traveling, playing board games, and trying new restaurants.
Dr. Fong treats patients in Sterling, Virginia at U.S. Dermatology Partners and is accepting new patients. To schedule an appointment, call 703-450-5959.
About U.S. Dermatology Partners

As one of the largest dermatology practices in the country, U.S. Dermatology Partners patients not only have access to general medical, surgical, and cosmetic skin treatments through its coordinated care network but also benefit from the practice's strong dermatology subspecialty thought leaders and medical advisory board. To be the best partner to its patients, U.S. Dermatology Partners is fervently focused on providing the highest level of patient-first care, and its team, therefore, includes recognized national leaders in areas such as clinical research, psoriasis, and Mohs Surgery. To learn more, visit https://www.usdermatologypartners.com.
Share article on social media or email: