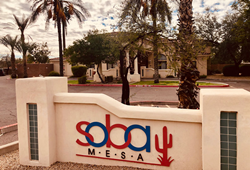 MESA, Ariz. (PRWEB) September 27, 2021
Soba Recovery has published a new online guidance about 'drug cocktails' which are the result of combining multiple types of drugs together. As most fatal overdoses are caused by more than one substance, it is important to understand how certain substances can affect the body, and what the potential symptoms are. With this guide they are working to help properly diagnose cases of drug cocktails to help those who need rehabilitation assistance.
In their guide on drug cocktails, Soba examines the specific risks associated with combinations like alcohol and marijuana, alcohol and cocaine, cocaine and marijuana, and heroin and cocaine. These combinations can lead to symptoms like confusion, reduced blood pressure, anxiety, insomnia, and even the inability to vomit. There are dangerous feedback loops, such as marijuana preventing the body from removing alcohol through vomiting, or how cocaine and alcohol together can create cocaethylene, which increases liver toxicity and can lead to a stroke.
Soba Recovery operates two rehabilitation locations in Mesa, Arizona and San Antonio Texas. These feature advanced facilities that will help along the road to recovery and include both inpatient residential programs and intensive outpatient programs. Their goal is to help properly diagnose those who need assistance with substance use and offer them the assistance they need to get their lives on track. With this new publication, Soba hopes to make the dangers of drug cocktails more widely known, and is happy to make it freely available on the internet for anyone to access.
About Soba Recovery: Soba Recovery are the operators of two rehabilitation centers, one in Arizona and the other in Texas. These are helmed by an expert team with over 20 years of experience and offer high-quality care from renowned therapists to get your life back on track. Those interested can visit https://sobarecovery.com/ to view more information about treatments and to submit an application to verify insurance coverage.
Share article on social media or email: