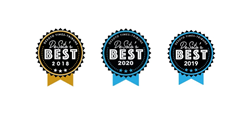 SOUTHAVEN, Miss. (PRWEB) November 25, 2021
With a goal of bringing new smiles to familiar faces, Advanced Dental Implant and TMJ Center continues its blue-ribbon brand of service while achieving local recognition along the way.
The practice has been voted Desoto's Best Periodontal Clinic for three consecutive years now in a countywide competition organized by the Desoto Times-Tribune and voted on by local residents from across the Mid-South.
"It is really an honor to win these past few years and it definitely shows that we are able to meet the expectations of the people of Desoto County," said Dr. Pradeep Adatrow, owner of Advanced Dental Implant and TMJ Center. "This award is so important because we just don't know how well we're serving the community until we hear about accolades like this."
Adatrow credits a patient-centric approach for earning a reputation as one of the area's top dental care providers.
"Our practice runs on the philosophy of taking care of the patients," said Dr. Adatrow. "We approach every patient with service and care in mind, kind of like the Chick-fil-A of dentistry. That is one of the reasons why our patients absolutely love us."
A Google search for Advanced Dental Implant and TMJ Center reveals some 500-plus positive reviews from patients whose treatments ranged from minor TMJ therapy to an array of extensive dental implants.
"We have been open six years now and have since become one of the highest rated adult dental facilities in Desoto County," said Dr. Adatrow. "We listen to our patients, we understand what their problems are, and we try to resolve them in the most comfortable ways possible."
In addition to annual accolades from the Desoto's Best competition, Advanced Dental Implant and TMJ Center was recently awarded the 2020 Patient Satisfaction Award by Dental Insider, the Internet's largest dentist directory.
Nominations for the Desoto's Best of 2021 competition take place online through November 15, with voting to follow in the coming weeks.
About Advanced Dental Implant and TMJ Center

Advanced Dental Implant and TMJ Center provides personalized and specialized Dental Implant and TMJ care for the Memphis Area and in Southaven, MS. The Founder, Dr. Pradeep Adatrow is a board-Certified Periodontist and Prosthodontist. Along with a devoted team of dental hygienists, assistants, and administrative staff Dr. Adatrow provides treatment with the patients as his primary focus. Please visit our website at http://www.advanceddentaltmj.com or call us at (662) 655-4868 to schedule a TMJ consultation.
Share article on social media or email: